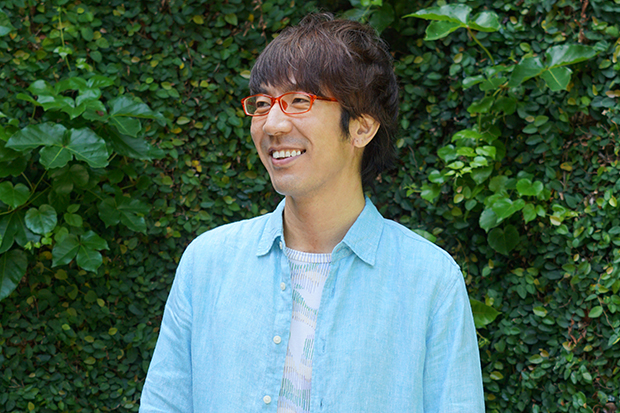 「Blanju(-ブランジュ-)」
作曲、編曲を中心に音楽活動している「中村祐太」のアーティスト名義「Blanju」。 ヒーリング、チルアウトを軸とし幅広いジャンルの音楽の制作を行っている。
幼少期からクラシックピアノを始め、18歳でテクノ、ハウスなどの電子音楽に多大な影響を受け1997年に東京都内を中心にDJ/イベントオーガナイズ活動を開始。
2004年から活動を音楽制作にシフトし、「Morning Tracks vol.4 mixed by YODA」に楽曲が収録された他、 フランスの化粧品ブランド「PIERRE COULEUR」とのコラボレーションCD「Worldcolor / mari'z mary」のサウンドプロデュース、 「アートリンク in 横浜赤レンガ倉庫」、「長崎ハウステンボス 光の宮殿」の音楽担当など、 アーティストの楽曲プロデュースから企業への楽曲提供、BGM制作、CM音楽のアレンジまで幅広い活動を展開。 2011年には自身のレーベルLUSTER FEELINGからファーストアルバム「Prelude」、2012年にはチルアウトレーベルSUNMOON musicから配信ミニアルバム「Life in Blue」をリリース。
ソロプロジェクト以外では2006年に19box Recording主宰のDJ19と共にVALID EVIDENCEを結成、2008年にファーストアルバム「This Is A Journey Into Sound」、2014年にセカンドアルバム「The Sound Should Be Where It Should Be」をリリース、様々なコンピレーションCDに楽曲が収録され海外でも注目を集めている。
また、Conure名義で活動するNobuyuki Tokunagaとのユニット「KamakuraENV」ではスコットランドのDarkroom Dub 、ハンガリーの Morphosis recordsから楽曲をリリースし話題となった。
2013年からマレーシアに移住、美しい自然環境に囲まれた場所での生活の影響もあり、海や森など自然をテーマにした音楽制作への思いがさらに強くなっていく。
又、ValidEvidenceとして、K.D.Lang,BoyGeorge,Level42のチルアウトカヴァー曲制作にも携わり、バレアリックサウンドへの興味が自身のソロ作品へ反映されていく。
2020年にはマレーシア人シンガーソングライターとコラボし、8年ぶりのソロリリースとなるシングル「Sunday Morning」をリリース。また、マレーシアのビーチリゾートをコンセプトにしたソロアルバム『LangkawiLoungeSession』をリリースし、ダンスミュージックオンラインストアであるBeatportにて、ORGANIC HOUSE / DOWNTEMPO&HOUSEのトップ100リリースチャートで6位にランクイン。
2021年には『LangkawiLoungeSession』から「NIght Sky」のリミックスシングルをリリースし、 BeatportのBreaks / Breakbeat / UK Bassのトップ100リリースチャートで9位にランクインした。
Music composer and arranger Yuta Nakamura is also known as the artist "Blanju" and has been producing music of wide-ranging genres, with a focus on healing and chill out.
He started playing classical piano from an early age, and by the age of 18, he was greatly influenced by electronic music such as techno and house. In 1997, he became a DJ and an event organiser based in Tokyo.
Since 2004, Yuta shifted his focus to music production. He was involved in a wide range of activities, from producing music by artists to corporate work such as producing background music and commercial music arrangements. He recorded songs on "Morning Tracks vol.4 mixed by YODA" and collaborated with French cosmetics brand "PIERRE COULEUR" to produce the "World color / mari'z mary" CD. He produced music for "Art Link in Yokohama Red Brick Warehouse" as well as "Palace of Light Jewel Illumination at Nagasaki huistenbosch", among others. In 2011, Yuta released his first album "Prelude" from his own label LUSTER FEELING, and in 2012, released a mini album "Life in Blue" distributed from his chill-out label SUNMOON music.
Besides solo projects, he formed VALID EVIDENCE in 2006 with DJ19, the head of 19box Recording and released their first album "This Is A Journey Into Sound" in 2008, and their sophomore effort "The Sound Should Be Where It Should Be" was released in 2014. Their songs were included in various compilation albums that drew attention overseas.
Yuta was also in the unit "Kamakura ENV" with Nobuyuki Tokunaga, who goes by the name Conure. Their songs became the talk of the town when they were released by Darkroom Dub in Scotland and Morphosis records in Hungary.
After his move to Malaysia in 2013, the influence of living in a place surrounded by a beautiful natural environment has further strengthened his desire to make nature themed music inspired the sea and tropical forest. In addition, as Valid Evidence, he produced chill out cover songs of K.D. Lang, Boy George and Level 42, reflecting his interest in Balearic sound in his solo work.
In 2020, Yuta collaborated with a Malaysian singer-songwriter to release the single 'Sunday Morning'.
He also released a solo album "Langkawi Lounge Session" with the concept of Malaysian beach resorts, which ranked 6th on the ORGANIC HOUSE / DOWNTEMPO & HOUSE Top 100 release chart of the world's largest dance music online store, Beatport. In 2021, his remix single 'Night Sky' from "Langkawi Lounge Session" was ranked 9th on Beatport's Breaks / Breakbeat / UK Bass Top 100 release chart.